Roll over image to zoom in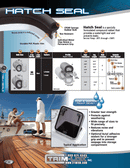 Trim seal is sold and priced in 250' rolls.
Boat interiors can get wet from ocean spray and washing, and keeping that water from draining into storage lockers and other secure spaces is essential. Although most new boats feature watertight marine hatch seals that seal out water and help reduce annoying rattles, many older boats weren't manufactured with these seals. Or, if they did, the boat hatch seals may have worn out over time. Specially formulated to promote a water-tight seal between the hatches and storage bins in your boat, marine hatch gaskets are the perfect solution to keep your storage space protected from water intrusion and damage.

Intended to replace old gasket material that's cracked or no longer preventing the hatch from leaking or rattling, the rubber and plastic components of our boat hatch seals are guaranteed to hold up in highly aggressive environments. Trim-Lok's trim seal products are a simple way to create a finished edge and protect a wide range of applications from the elements. More specifically, Trim-Lok's line of hatch seals for boats are non-moisture absorbing and resist salt water and oxidation. The closed cell foam tape seals out moisture, weather, sound, and fumes. Whether you're concerned about water damage or are annoyed by constant rattling, our marine hatch seals are the perfect solution.

Installation of boat hatch gaskets is easy. The butyl adhesive sealant is optional, and will provide a stronger grip and prevent seepage into storage compartments. This sealant, when combined with the individual metal clips, will help your hatch seal retain a permanent grip. Although many mistakenly believe that a higher compression rate results in a stronger hold, our bulbs are designed and engineered to work best at 25-40% compression of its original height, with 25% being optimum. If you compress it more than that, its life and serviceability will be limited.

With easy application, a strong grip, and excellent resistance to ozone, water absorption, and sunlight aging, there are plenty of product highlights that set Trim-Lok's hatch seals apart from other options available on the market. If you're looking for a durable hatch seal that will protect your boat from water damage and prevent unnecessary rattling, look no further than Trim-Lok.
Payment & Security
Your payment information is processed securely. We do not store credit card details nor have access to your credit card information.