Roll over image to zoom in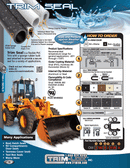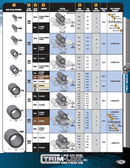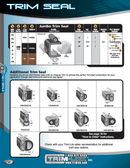 Trim seal is sold and priced in 250' rolls.
With Trim-Lok's Trim Seal, you can easily create a customized, finished bulb seal to protect against moisture and weather damage. Available in a wide variety of bulb sizes, ranging from .2 inches to 1 inch (5.1 mm to 25.4 mm) in size, our bulb seals and gaskets are the perfect solution for anything that needs a weatherproof seal with a clean, finished look. Although extruded rubber bulb seals can be used for a variety of applications, our trim seals and bulb gaskets are the product of choice for the automotive, marine, and transportation industries.

Our bulb trim seals are manufactured from a flexible PVC trim with an attached EPDM sponge rubber tubing, ensuring that you'll get a safe, secure seal for a variety of applications. With strong gripping tongues and resilient design, Trim-Lok's trim seals and bulb gaskets are sure to stay in place, even in extreme temperatures and erratic weather conditions. Regardless of the application, our extruded rubber bulb seals will seal and protect against weather damage so your products won't be affected by rain, snow, wind, or extreme heat.

If you have a special order or require a custom fit, we're completely flexible with your design requirements and can manufacture custom products based on your unique application of our solid rubber bulb seals. Our in-house manufacturing process helps us maintain a quality product; all Trim-Lok products are proudly made in America using only the highest quality parts, and have been tested thoroughly for any defects. Additionally, our products are easy to use and install—view our installation video and PDF for more information.

With strong gripping power, superior flexibility, weather resistance, and a professional finish, there are plenty of product highlights that set Trim-Lok's bulb seals apart from other trim seal options available on the market. If you're looking for a durable EPDM bulb seal that will protect boats, automobiles, or trucks from unnecessary damage, look no further than Trim-Lok.
Payment & Security
Your payment information is processed securely. We do not store credit card details nor have access to your credit card information.